Home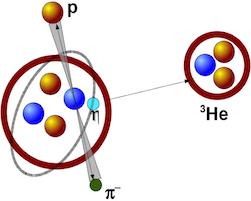 First Circular
The Programm Advisory Committee of the Cooler Synchrotron COSY has recommended two weeks of the search for the eta-mesic helium with the WASA-at-COSY detector setup. One day of data taking resulted in a very encouraging results and the main measurement will take place in September 2010.
With this perspective an "International symposium on mesic nuclei" will be held in Cracow in Poland with only invited presentations given by the experts interested in the field of mesic nuclei.
The symposium will take place in Collegium Maius the oldest building of the Jagiellonian University in Cracow in Poland, the same building where Nicolaus Copernicus have studied astronomy. The presentations are planned for the day 16.06.2010. This is a date adjacent to the Conference MESON-2010 which will be held in Cracow from 10.06.2010 till 15.06.2010.